So why spend the extra money to buy pharmaceutical grade supplements instead of the cheaper versions found on line or at the big warehouses or the grocery store?
There are several big differences between pharmaceutical grade supplements and over the counter (OTC) supplements and you'll get what you pay for with Over the Counter (OTC) supplements!
FDA Does NOT review OTC Dietary Supplements
The first difference between OTC supplements and pharmaceutical grade is FDA regulation or lack of. FDA regulates dietary supplements under a different set of regulations then those covering "conventional" foods and drug products.  Under the "Dietary Supplement Health and Education Act of 1994 (DSEA):
-Manufacturers and distributors are responsible for evaluating the safety and labeling of THEIR OWN products and are also responsible for ensuring that they meet the requirement of DSHEA and FDA regulations according to fda.gov.
-The FDA is ONLY responsible for taking action against any adulterated or misbranded dietary supplement after it reaches the market.
On the other hand, pharmaceutical-grade supplements must be made in a cGMP (current Good Manufacturing Practice) compliant manufacturing plant.  The FDA outlines the requirements for a cGMP ruling making this process one of the best ways to ensure quality of manufacturing. In addition to that, FDA physically checks the manufacturers to see that they are meeting these standards. What that means is even though the medical grade supplements themselves are not being regulated by the FDA, the process of production is! That process is much more reassuring as to quality, labeled ingredients, or fillers then waiting for the FDA to step in because of a complaint!
Quality of Ingredients
Many OTC supplements use synthetic or cheaper forms of vitamins and ingredients. Along with a synthetic or cheaper form, OTC products may also has less concentrations of the product. This means you may have to take more of the over the counter supplement to get the daily requirement and may actually make the OTC product cost more! Also your body may not be able to break down a synthetic form of the vitamin, such as folic acid versus folate.
Pharmaceutical grade supplements have to include at least 99% of the active ingredients and usually contain the best possible quality of ingredients that are mostly well absorbed and ensure that your body is receiving all of the vitamins. Pharmaceutical grade supplements do not use ingredients such as fillers, whereas OTC supplements can. OTC products aren't required to list all the ingredients and may contain fillers, such as cork, byproducts, chemical dyes, propylene glycol, dextrose and sodium benzoate.  These fillers can actually become toxic with prolonged use!!
Because pharmaceutical grade supplement companies generally attempt to minimize the use of fillers and allergens, they are more likely to be hypoallergenic.  Many pharmaceutical grade companies, such as Pure Encapsulations create hypoallergenic supplements that are tested to ensure they are free from wheat, gluten, eggs, peanuts, trans fats, hydrogenated oils, GMOS, magnesium stearate, coatings and shellacs, artificial colors, flavors, and sweeteners, unnecessary binders, fillers and preservatives.
For example, Check out Vitamin D3 from Pure Encapsulations which, contains no fillers and a natural form of Vitamin D called cholecalciferol.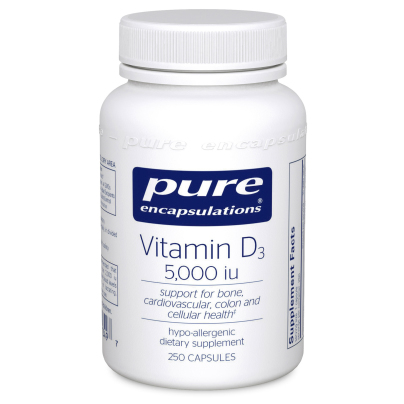 Serving Size: One Vegetarian Capsule
Amount Per Serving
Vitamin D … 125 mcg (5,000 IU)
(as cholecalciferol)(D3)
Other Ingredients: hypoallergenic plant fiber (cellulose), vegetarian capsule (cellulose, water)
To order discounted pharmaceutical grade products, such as Pure Encapsulation Vitamin D, use the following link to gain access and a 10% discount:
Bioavailability is defined as the degree and rate in which a compound is absorbed into a living system or is made available at the site of biological activity. Many OTC multivitamins have a lot of different compounds in one pill and many times it is difficult for the compacted pills to be digested and absorbed. On the other hand, pharmaceutical grade supplements have specific guidelines and are required to be digested within 45 mins to be determined to qualify for medical grade.
Conclusion
It is important to choose a reputable brand that has undergone third-party testing and is sourced from quality ingredients.  By doing that, you'll be assured of the ingredients and good absorption. Why take a chance that you are ingesting non-disclosed potentially toxic ingredients without any benefit?
Pharmaceutical Grade Supplement Companies
Designs for Health
DiVinci Labs
Douglas Labs
Gaia Herbs
Integrative Therapeutics
Metagenics
Nordic Naturals
Nu Medica
Pure Encapsulations
Thorne Research
How to Order Discounted Pharmaceutical Grade Supplements
If you are buying pharmaceutical grade supplements from a "third party" supplier, then you may be getting "fake"  or counterfeit supplements! Most reputable manufacturers, like Xymogen, only sell their products thru healthcare providers, like lifesparknutrition.com.
To order from these medical-grade companies and more, use the following link and receive the lifesparknutrition.com professional discount.
https://us.fullscript.com/welcome/lifespark
To order Xymogen products, and receive the lifesparknutrition.com discount, use this link: